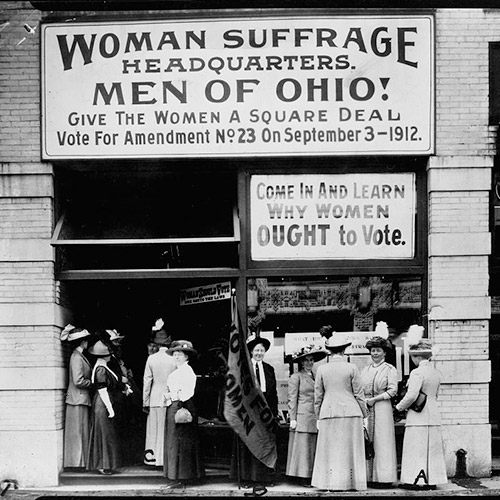 Petticoat Patriots
Exhibition panels loaned from Michigan Women Forward #HERStory (formerly the Michigan Women's Hall of Fame), supplemented with items from the Ella Sharp Museum's collection. The Center created Petticoat Patriots: How Michigan Women Won the Right to Vote in 2010 to celebrate the 90th anniversary of the passage of the 19th Amendment to the U.S. Constitution granting women the right to vote. The exhibit explores the history of women's suffrage in Michigan and features the stories of more than 20 Michigan women who became leading suffragists.
The exhibition features a diverse body of work representing the artist's career-long interest in color and composition. Prokos approaches these themes through experimentation with subject matter and technique. Konstantin Prokos was born in 1937 in Escanaba, MI. After attending Midwestern Broadcasting School in Chicago, he worked his way through college in various jobs including broadcasting and social work for the State of Michigan. He attended the University of Wisconsin, Milwaukee, Northern Michigan University, Oakland University, and Central Michigan University, where he received his MA in English. He taught at the University of Kentucky-Hazard Community College for three years, then moved on to C.S. Mott Community College in Flint, retiring in 1995. He has maintained a painting studio in Jackson since 1996. Prokos has shown his work throughout the state and region, including Pittsburgh, Cleveland, Indianapolis, and Evanston, Illinois.
The Art á Loan program is designed to encourage young artists to share their talents with the Jackson community. Artworks from students in Kindergarten through 12th grade are selected by a committee to be professionally framed and displayed at the museum. Following the exhibit, the artworks are rented and displayed in public locations around Jackson for one year. Pictures are listed below, if interested in renting a piece of artwork for 2018-2019, please contact the museum at 517-787-2320.