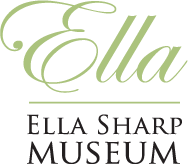 Address
Ella Sharp Museum
3225 4th Street
Jackson, Michigan 49203
Phone: 517.787.2320
Fax: 517.787.2933
Hours
Monday – CLOSED
Tuesday – 10:00 AM to 5:00 PM
Wednesday – 10:00 AM to 5:00 PM
Thursday – 10:00 AM to 7:00 PM
Friday – 10:00 AM to 5:00 PM
Saturday – 10:00 AM to 5:00 PM
Sunday – Noon – 5:00 PM
Gallery Admission
Adults: $5
Children: $3
Museum Members and Children Under 5: Free
Museum galleries are open Tuesday – Sunday during regular business hours.
Planetarium Show
Adults: $6
Children: $4
Museum Members: $4
Children Under 5: Free
Thursdays at 6:30 p.m.
Sundays at 1:30 p.m. (Kids Show) and 2:30 p.m. (all ages)
Sensory Friendly Shows are offered on the first Sunday of every month at 12:00
Show details and times here
House Tours
Adults: $3
Children: $2
Museum Members and Children Under 5: Free
Guided tours of Ella Sharp's 19th century Hillside Farmhouse are at 11 a.m. and 2:00 p.m. (Tuesday through Saturday). Tours are available for groups of 15 or more with two weeks notice. Click here to contact us now.
After 5 years, the Cell Block 7 Prison Museum closed permanently on Dec. 29, 2019
---
Thank you to all of our 35,000+ visitors for five amazing years of programs and tours that shared Jackson's prison history with the world.
The Ella Sharp Museum will continue to collect prison artifacts, documents, and photographs and to tell Jackson's prison history through stories, exhibits, and programming.
Cell Block 7 is honored to have worked with the Michigan Department of Corrections (MDOC), Experience Jackson for marketing support, and all of the many community partners who helped make CB7 a reality.
Click HERE to learn more about Cell Block 7 Prison Museum.