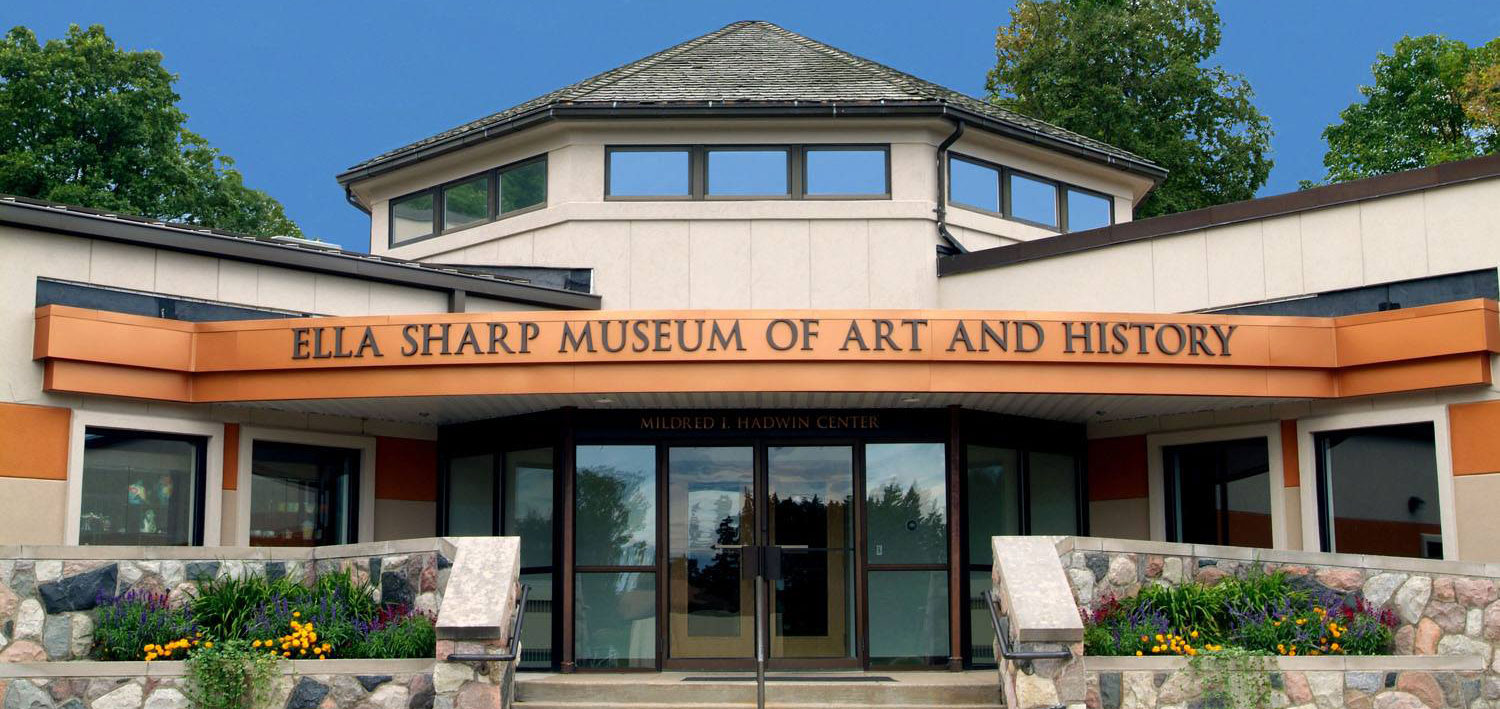 Frequently Asked Questions
Location & Amenities
Hours & Admission
Exhibits, Programming, and Events
Classes
Social Media
Collections
Location & Amenities
Where is the museum located?
Ella Sharp Museum is located inside of Ella Sharp Park. Our address is 3225 Fourth Street, Jackson, MI, 49203. The entrance to the museum is located on the East side of the museum buildings within the park, off of Oakwood St.
Parking is free and located in front of the museum entrance inside of Ella Sharp Park.
Where should I park?
Parking is free and located in front of the museum entrance inside of Ella Sharp Park.
Is there a museum store?
Ella's Corner Shop is our NEW Museum Gift Shop, located in our main lobby and open during normal museum hours. This store has astronaut ice cream, polished stones, historical children's toys, books for kids of all ages and adults, Ella Sharp t-shirts, and handcrafted jewelry and art from a variety of local artisans. Learn more here.
Can you reserve the museum to host your own event?
We would love for you to host your event at Ella Sharp Museum. You can learn more about our facility rentals by clicking here and by calling the museum at 517-787-2320.
Is the museum accessible to all?
We strive to create an inviting and inclusive environment for everyone.
Ella Sharp Museum is ADA compliant
Free parking at the museum entrance
Public areas are wheelchair accessible with the exception of some of our outdoor historical buildings
All museum restrooms are wheelchair accessible with changing tables
Walkers, wheelchairs, and scooters are welcome
Ella Sharp Museum welcomes service animals
A sensory friendly backpack is available to check out at the information desk
Resting spaces are available in the museum lobby, on the outdoor grounds, and in the museum galleries
For additional information, contact our visitor services at 517-787-2320 or info@ellasharp.org.
Hours & Admission
When are you open?
The museum is open Tuesday through Saturday. Hours of operation can be found here.
What is your admission?
Admission includes Museum Galleries and Hurst Planetarium Shows.
Adults: $10
Children up to 17: $5
Adults Over 65, Military Members and Students: $8
Museum Members and Children Under 5: Free
Please present ID for admission discounts
Does the Ella offer discounts?
Museum members receive free admission into the galleries and public Planetarium shows. We also offer free admission to museum card holders that have the NARM reciprocal membership sticker.
Ella Sharp Museum is a member of the Museums for All program, a Blue Star Museum (May-Sept), and offers a Museum Pass from the Jackson District Library. Learn more about all these programs here.
Does the Ella have reciprocal memberships and how do I get one?
Ella Sharp Museum is an active member of the North American Reciprocal Museum. Members at the family membership and above receive access to thousands of art, cultural, and historical institutions. Learn more about museum membership here.
Exhibits, Programming, and Events
What is currently on display in the museum galleries?
Ella Sharp Museum offers a variety of art, history, and science exhibits throughout each year. For more information on our current traveling, in-house, and semi-permanent exhibits, visit our exhibit page here.
Can I tour the historical buildings?
The inside of the historical buildings are currently closed.
What does the planetarium offer?
The Hurst Planetarium currently offers in-person private shows, virtual night sky tours and rentals. Learn more >
Does the museum schedule group visits?
Please click here for details about visiting as a group or field trip.
What family-friendly events are there?
We are a place of art, history, and science and offer something for everyone! Click here to see our upcoming featured events.
What is Art a' Loan?
Ella Sharp Museum hosts the Art a' Loan exhibit every year with the collaboration of k-12 students and teachers. Learn more here.
Classes
What type of classes do you offer?
See our current events and classes schedule here!
Photographs & Social Media
Can I take pictures and post on social media?
We encourage our visitors to take pictures while here unless certain traveling exhibits prohibit photography. In that case, the museum is responsible for putting up signage to remind visitors that photography is not allowed.
Flash photography and tripods are never allowed within the museum exhibits and historical buildings.
Tag us! Share with us! And check-in while you are here. You can follow us on Facebook & Instagram.
Collections
How can I donate an object?
Yes! Please visit our collections page for more information.