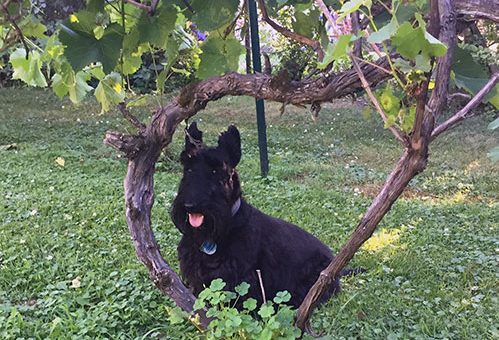 Meet Rick and Monica Collett
Rick's family have lived in Michigan and the Jackson area for over 180 years. We were some of the early founders of Jackson, Vandercook Lake and areas south of Jackson. My family has been in the US since the 1600's. The first members of my family to come here came over on the third Pilgrim ship from England and settled in the Massachusetts area with some of them being involved in the Salem Village witchcraft trials. Monica was born in Muskegon and moved to Jackson after marrying Rick in 1976; we met at Grand Valley State University.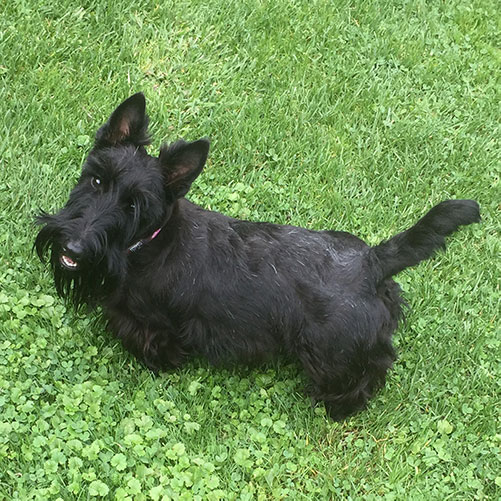 What work do you do or did you previously do?
In 1976 Rick was hired by the Northwest School District to teach science. Although I had planned to teach, my path changed and led me to work at Gilbert/Commonwealth. I truly enjoyed working as a technical editor in the environmental services department (and I think I have terrified many people over the years with my red pen). One of the most exciting times there was working with the state of Michigan to coordinate preparation of its proposals to site the Superconducting Super Collider in Michigan back in the late 1980s. When Gilbert/Commonwealth closed in 1988, I worked briefly with the great archaeologists at Commonwealth Cultural Resources Group (people with whom I had worked at Gilbert/Commonwealth) and then moved to marketing at Commonwealth Associates, Inc. I retired in 2017.
We never had children, but we've shared our home with Scottish terriers since 1988. Their feisty personalities suit us well.
Rick taught high school-level astronomy and physics and served as chair of the science department. For several years he was a group leader for the Jacktown Packers. High school students had to apply to participate in the annual 3-week-long backpacking trips out West where they hiked in mountains, desert areas, and the Grand Canyon. Before the trips took place, the students studied the history and geology of the areas they would be visiting. These were memorable experiences that challenged the students mentally and physically.
Rick retired from teaching in 2001, and not long after, he was asked to serve as interim Director of the Mathematics and Science program at the Jackson County Intermediate School District. He agreed to hold that position for a year and a half. At the same time, we were starting a small wine importing company with four friends. We focused predominantly on wines from France, Italy and Argentina using the guideline that we would buy from smaller, independently owned wineries that focused on quality. It may sound romantic to travel abroad to visit wineries and meet the winemakers, but importing entails a lot of hard work that the consumer doesn't see. But our hard work brought rewards: finding really good wines, having fabulous experiences, and becoming good friends with people we never would have met otherwise. Our importing careers ended in 2019.
What drew you to volunteer with Ella Sharp Museum?
Rick is not one to be happy sitting idle, and that is why he pursued a volunteer position at Ella. His educational background includes history (special interest in the colonial revolutionary period) as well as science, so working in the museum's historic collections is a good fit. His grandfather was a vice president at Sparks-Withington many years ago, and it's a trip down memory lane when he sees some of the old radios from that company in the museum. His grandmother was a partner in the H & M Candy Cottage that produced Gilbert Chocolates starting in the 1960's.
I really haven't volunteered at Ella Sharp on a frequent basis, but I started working at the annual Art, Beer and Wine Festival back in 2012 or 2013.
The year I started, Rick was going to be working at a table on behalf of Anderson Distributing. The Ella Sharp Museum newsletter stated that more volunteers were needed, so I answered the call. It was so much fun that I've worked at the festival ever since. I love interacting with the visitors and providing the best experience to them and on behalf of the wineries that I can.
What's your best memory of ESM?
As far as favorite things about volunteers: For Rick it is having a sense of purpose that benefits that community. For Monica it is all about providing a positive, fun experience for people, particularly at the Art, Beer and Wine Festival. Years ago, I thought that my ideal retirement job would be to pour wine at a local winery. But I'm now content to do that for Ella Sharp Museum instead.
We have attended many events at the museum and visited many exhibits. Ella Sharp Museum is a true gem, and we need to support the museum and its mission.
*Pictured are Rick and Monica's Boston Terriers Jeffrey sitting among our grapevines (waiting for the Art, Beer and Wine Festival to begin) and one of Cassie flashing her smile.