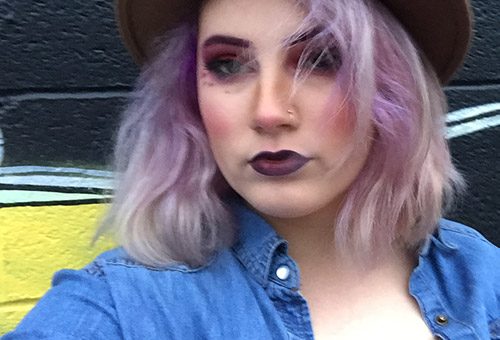 Who is Paige?
Hello all, I'm Paige. I am a born and raised Jackson native. I graduated from Vandercook Lake in 2014, and started my journey as an artist, dabbling in all sorts of different mediums and art styles, mostly gravitating towards acrylic or watercolor. I have been in quite a few Jackson area art shows and I love our art community hereI also enjoy painting my face with makeup; I love trying out new makeup trends and creating really fun, bold looks. I have always had a thing for color, you'll always catch me with some kind of statement piece whether it's my outfit choice or hair color choice (Currently rocking the purple). I've been with my boyfriend Michael for nearly a decade and I'm thankful everyday for the little family I have with him and our sweet kitty, Mr. Mittens.
What's your role at ESM?
I started in early September of 2017 at the Cell Block 7 Museum. There, I became one of the main tour guides up until the end of 2019. Since moving to the Ella, I became the Museum Assistant. I do a lot of support work for various departments, but my official place is with the Learning & Engagement department. I lesson plan for different programs and events and sometimes even lead the classes myself. I have worked with ClubLife and Alternative Choices with art project demonstrations and had such a blast. I get to use my creativity in new ways and help others enjoy art along with me.
What do you miss the most during the COVID-19 stay home stay safe time?
I miss going out with friends and family and sharing laughs around a table. Ironbark Brewery is our spot and I cannot wait to get in there and have a nice cold beer and a delicious Yuppie sandwich from the Kibby Cobb deli. I miss my family, though I have been video chatting every chance I get, nothing beats seeing them in person. I'm also missing my studio space at ART634 and the Make, Talk, Sing, Play event.
Where is the first place you are going when the restrictions are lifted?
Probably go to Ironbark and get that beer. I'm also planning a tattoo later in the year and who knows, maybe another trip to the salon for a crazy hair color.
What is your favorite thing about ESM?
I have always seen something special in our little city and I have always adored the museum and the park alike. I grew up right around the corner and have fond memories from of our Living History program in 3rd grade, to walking every single trail that runs through the park, to taking family pictures out in the Rose Garden, and even having my Senior Prom right in the Community Room. I have always had an attachment to this place and I am very proud to be working here now. We truly bring the community together. I love being in the behind the scenes to set up our programs and festivals, because I'm a sucker for some good before and after transformations. I'm a three year veteran of our annual Art, Beer, and Wine Festival, our biggest transformation, and I am always thoroughly impressed with how all our volunteers and staff pull together year after year to transform the grounds into a spectacular festival.