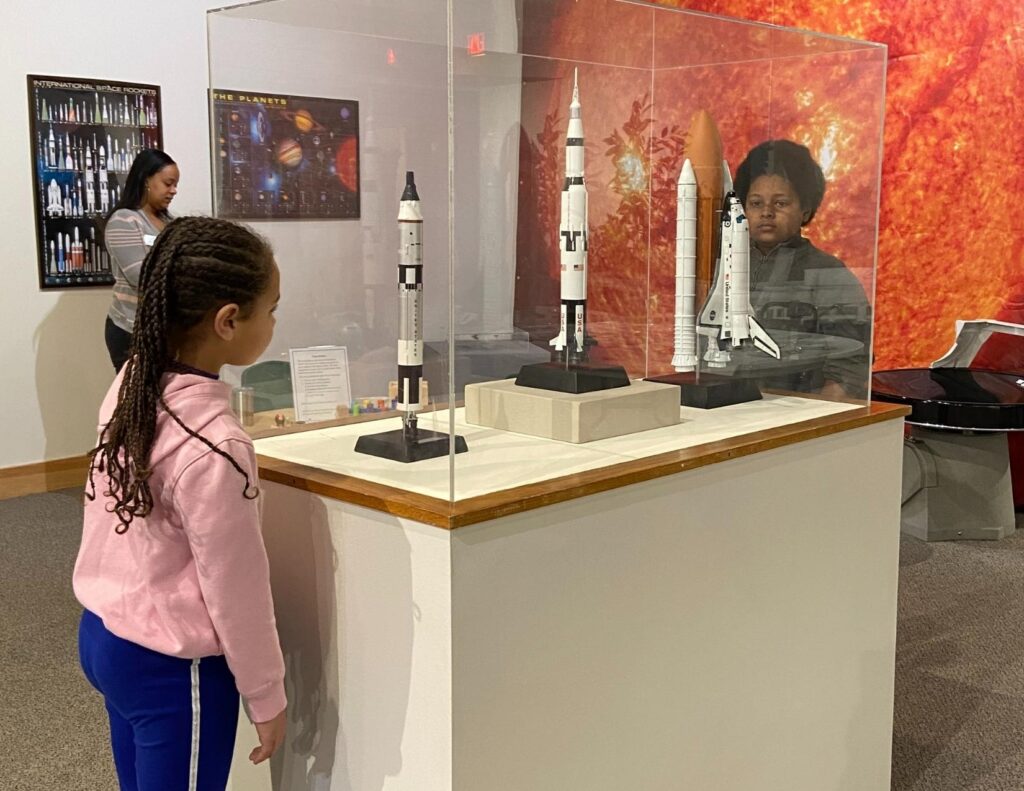 The Ella Sharp Museum will debut its new children's exhibition, Exploration Stations, on Saturday, May 7, 2022, as part of Jackson Museum Day activities. Developed by the Ella Sharp Museum, the 2,500 square-foot interactive exhibit features five themed stations — space, construction, home, nature and transportation — connected to unique aspects of the City of Jackson and Jackson County. Young explorers can:
Join a space crew and complete tasks wearing thick astronaut-like gloves while learning about the sun, planets, and black holes
Explore the wheels of transportation on a car track, railway tables, a village floor mat with cars, trains, trucks, airplanes and more
Step into nature making leaf and animal track rubbings and be a forensic scientist with owl pellets, forest animal skeletons and more
Grab a fishing pole to catch and match Great Lakes fish, discover shells found in Michigan lakes and learn what songs local birds sing
Be a chef in a pretend kitchen and dress-up as a police officer, firefighter, doctor or nurse
Construct masterpieces with LEGO® and DUPLO ® bricks, Lincoln Logs and gigantic Blue Blocks
Both children and adults also will learn about local history with artifacts from the museum's large artifact collection weaved throughout the exhibit's stations. Along with Ella Sharp's favorite recipes, artifacts include sculptures, toys and photographs on display at the museum for the first time.
Developed as a "flex" exhibit, Exploration Stations will grow and move throughout the museum's seven galleries to compliment and make room for future exhibits and experiences. Upcoming plans for Exploration Stations include adding tactile-touch stations along with an art station.
"New learning opportunities with Exploration Stations are plentiful both as an in-house exhibit and at outreach events. We want kids, parents, museum members and teachers to believe one experience with the Ella Sharp Museum is never enough. By continually refreshing spaces, with different topics and activities, we'll not only meet but exceed our audiences' expectations," commented executive director Julie Johnson.
The Exploration Stations exhibition is made possible by support from the Charles Aymond Fund. Plan your visit now at ellasharpmuseum.org/visit and learn about current and future exhibitions at ellasharpmuseum.org/exhibits.
Exhibit: Exploration Stations
Exhibit Location: Ella Sharp Museum, 3225 Fourth St, Jackson, MI 49203
On View: May 7 – Dec. 31, 2022
Museum Admission: Adults: $5; Children: $3; Museum Members and Children Under 5: Free. Admission includes access to Bringing the Village to Life: The YPOP Story exhibit, Jackson & the Roaring 20s exhibit, The Magnificent Obsession Wildlife exhibit, and the Never Enough Time Gallery.
Gallery Hours: Wednesday – Saturday, 10 a.m. – 5 p.m., Sundays 12 – 5 p.m.