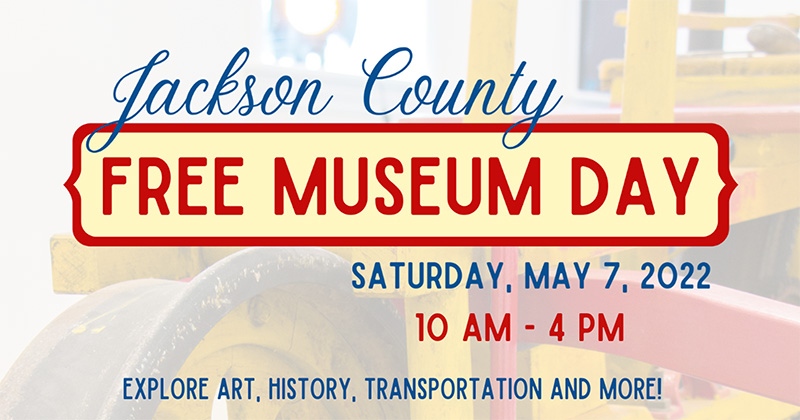 Eleven participating Jackson County, Michigan museums will be open to the public, free of charge on Saturday, May 7, 2022, from 10:00 a.m. to 4:00 p.m. for Jackson County Free Museum Day. Some locations will host an "open-house style" reception and self-guided tours while others are hosting child-friendly activities, historical demonstrations and providing guided tours.
"Our museums focus on everything from transportation to musical instruments, historical buildings, schoolhouses, and fine art," said Rachel Buchanan, Marketing & Development Manager for Experience Jackson. "On this unique day, we welcome you to dive into the rich history and culture that Jackson County has to offer at these locations".
2022 Museum Day Participants:
Cambridge Junction Historic State Park and Walker Tavern
13220 M-50, Brooklyn, MI 49230 | (517) 930-3806
Self-guided tours of the visitor center and barn
Ella Sharp Museum
3225 Fourth St., Jackson, MI 49203 | (517) 787-2320 Museum galleries, historic farm lane, a show in the Hurst Planetarium, and Hillside Farmhouse tour. Planetarium shows and Farmhouse tours will be offered every hour on the hour. Tours run from 10 a.m. – 4 p.m. with the last admittance at 3 p.m.
Conklin Reed Organ Museum & Heritage Park
105 Fairview St., Hanover, MI 49210 | (517) 563-8927
Museum tours and refreshments, antique farm equipment, barn tours, Kids on The Farm activities, Mother's Day planting for children
Lost Railway Museum
142 West Michigan Ave., Grass Lake, MI 49240 | (517) 522-9500
Self-guided tours, audio docent tours and rides on the new virtual Boland Express
The Mann House
205 Hanover St., Concord, MI 49237 | (517) 930-3806
Guided tours of the house
Tompkins Historical Stewart Museum
10138 Tompkins Rd., Rives Junction, MI 49277 | (517) 962-3398
Museum tours, schoolhouse tours, log cabin tours, weaver demos, blacksmith demos and tractor pull
Waterloo Farm Museum and Dewey School Museum
13493 Waterloo Munith Rd., Grass Lake, MI 49240 | (517) 596-2254
Tour of 13-room farmhouse, log house and farm buildings, and demonstrations
Ye Old Carriage Shop Auto Museum
3537 Henderson Rd., Spring Arbor, MI 49283 | (517) 750-4300
Guided tours, coloring books activities for children, and refreshments
Michigan's Military Heritage Museum (new location in Jackson)
311 N. Wisner St., Jackson, MI 49201 | (517) 926-6696
The Coe House Museum & Grass Lake Area Historical Connection
371 W. Michigan Ave., Grass Lake, MI 49240
First Universalist Church
200 Hanover St., Concord, MI 49237 | (517) 524-8891
The sanctuary of the First Universalist Church building will be open during the day
Each museum will offer an on-site prize drawing. Attendees can download the free Experience Jackson app prior to attending and follow along with an app challenge for their chance to win. To ensure strong internet connections, Jackson District Library will provide WiFi hotspots at participating locations on Museum Day.
For more information about Museum Day, attractions, events, and hotels in Jackson County, visit the Experience Jackson website. Museum Day is proudly promoted by Experience Jackson and participating museums.
It is the mission of Experience Jackson to strengthen the positive perception of Jackson County as a must-visit destination to increase revenues and stimulate economic development and growth for the community.