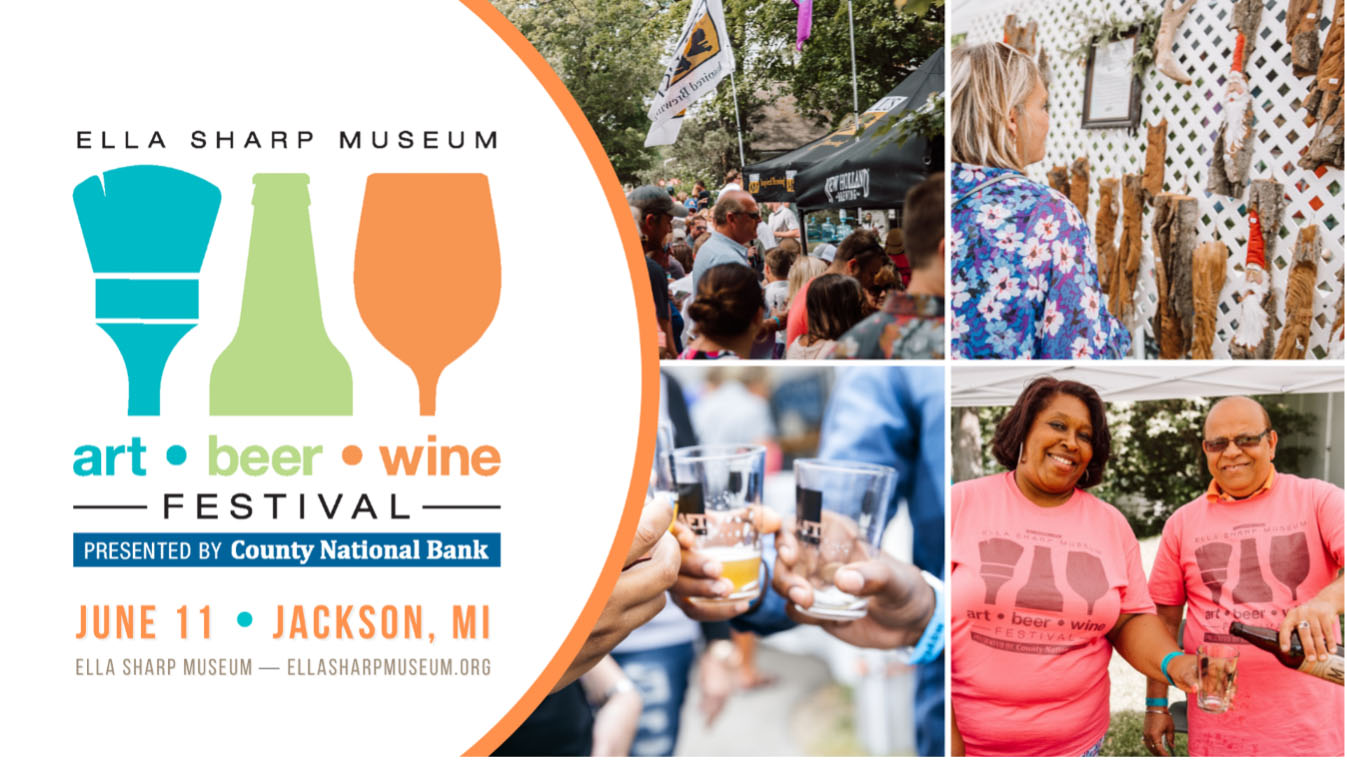 Ella Sharp Museum's annual Art, Beer, and Wine festival will take place on Saturday, June 11 from 2:00 – 8:00 p.m. The Art, Beer, and Wine Festival is presented by County National Bank.
This year's festival will feature Michigan wineries, breweries, cideries, and artists. The museum will also host food vendors and live music on the grounds and within the courtyard of the museum's historic Hillside Farm Lane.
Vendor Registration is now open to all qualifying Michigan Vendors. Find the vendor registration link here.
The Art, Beer, & Wine festival is Ella Sharp Museum's largest fundraiser of the year. All proceeds from the festival (including bottled wine and beer sales) benefit museum programming.
Tickets are now on sale through the Ella Sharp Museum Eventbrite page.
Ella Sharp Museum is seeking volunteers for the Art, Beer, & Wine Festival. Volunteers can assist in a variety of ways: admission, pouring beverages, grounds assistance, sales tent, and more. Individuals interested in signing up to volunteer can find the volunteer registration through the Ella Sharp Museum website.
Event Details:
Event: The Art, Beer, & Wine Festival
Event Host & Location: Ella Sharp Museum
Date: Saturday, June 11
Festival Time: 2:00 – 8:00 p.m.
Location: 3225 Fourth St, Jackson, MI 49203
Ticket Details:
General Admission: $25
Tasting Ticket: $50
VIP Tasting Ticket: $100
Ticket Entry Times:
Ticket holders will enter the festival during a specific timeframe. During checkout on Eventbrite, visitors will have the option to choose their festival time. Tickets are on sale now.
2:00 – 8:00 p.m.
3:30 – 8:00 p.m.
5:00 – 8:00 p.m.
Festival Contact:
Jesse Yaeger, Executive Assistant and Coordinator of the Art, Beer, & Wine Festival; artbeerandwine@ellasharp.org; 517-787-2320.