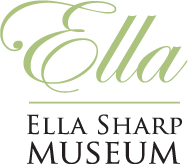 Ella Sharp Museum is temporarily closing the Lynne A. Loftis Jackson History Gallery for the re-development of a new gallery space that will feature in-house and traveling exhibitions.
The Jackson History Gallery opened in 2006 with the intention of focus on community pride, education, and involvement by residents and visitors. It was created to present an overview of Jackson's rich history and culture.
"The Jackson History Gallery is a key component of our mission to share the history of Jackson and Jackson County with our visitors," said Julie Johnson, Executive Director of Ella Sharp Museum. "We are closing the decade old gallery to redefine the space with a new look, new objects, and create a more inclusive history of the Jackson community."
Including the Jackson History Gallery, the museum operates seven gallery spaces that feature local, in-house, and national traveling exhibits. The remaining six galleries will continue to stay open during the re-development of the history gallery.
The history gallery is set to close after March 6, 2022.
Those wishing to get a glimpse of Jackson's history are encouraged to visit the museum before the gallery closure. Visitors can learn about the start of "Jacksonopolis", Jackson's role in manufacturing, the railroad industry, state corrections, the formation of the Republican Party, and more.
During the gallery closure, the Jackson history collection will be evaluated, organized, stored, and used for future exhibitions and displays within the museum's gallery space. In the meantime, the museum staff and interns will continue to highlight Jackson history and the collections through virtual offering such as social media posts and select, never seen before, objects will be on view throughout the year inside a different gallery space.
"We are excited to start this journey, expand the community's involvement in the long-term re-design, and look forward to sharing a new gallery with you soon," said Johnson. The space is set to re-open in the fall of 2022. At the time of the re-opening, the space will be used to house the museum's traveling exhibition, How People Make Things, inspired by the factory tour segments from the Mister Rogers' Neighborhood television series. The exhibit celebrates the story – the people, the manufacturing processes, and the technologies used to make everyday objects in our world.
Ella Sharp Museum plans to start a capital campaign around the history gallery redevelopment. The community can continue to support Ella Sharp Museum in a variety of ways, from visiting to donating. Learn more and donate today at on the museum website.
Ella Sharp Museum will continue with a full schedule of exhibits, programming, and events throughout 2022.