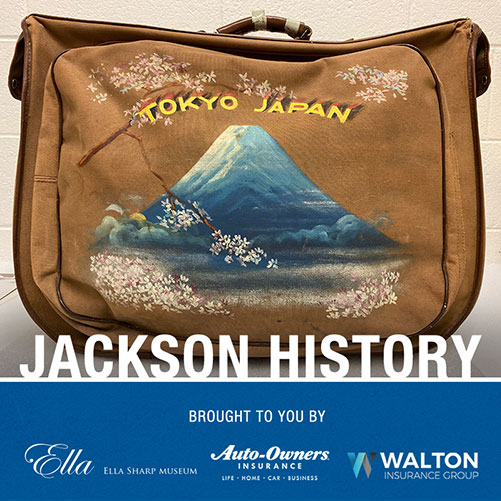 One of our newer acquisitions: this bag was hand painted for Jack Williams while he was stationed in Japan in the immediate years after World War II.
Jack was a lifelong resident of Jackson. He graduated from Jackson High School in 1946 before enlisting in the Army, achieving the rank of Corporal, for the purpose of receiving GI Bill benefits to further his education.
Jack was stationed in Japan in the aftermath of the war. He wrote to his mother frequently to reassure her of his status. His family still retains these letters. While on short leave, Jack and his friends visited a market, where he commissioned this bag to be made.
After his service, he attended Jackson Community College in 1950. He worked at General Products for over 35 years, was a member of the Guys and Dolls dance club, and a past president of Jackson Jaycees.
The canvas bag was donated in 2020 and is now a part of the permanent collection of Ella Sharp Museum.
This week's Jackson history is brought to you by Auto-Owners Insurance and Walton Insurance Group.