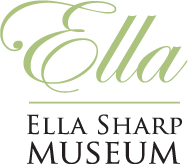 The Ella Sharp Museum is excited to announce the expansion of our Ella for All program. Thanks to an anonymous donor Ella Sharp Museum for the first time in our history is now offering scholarships for youth that wish to participate in our general programming. "Financial constraints should not and will not be a barrier to having the youth in our community participate in history, art and science", Interim Director Valerie Herr.
Scholarships will be based on financial need. Scholarship applications will be available soon.
If you would like to support our commitment to ensuring all youth have access to art and cultural you can contact us today at 517-787-2320.
Or send a check to Ella Sharp Museum 3225 Fourth Street Jackson, MI 49203 Att: Ella for All scholarship fund.