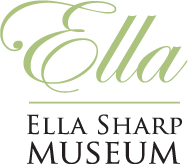 Ella Sharp Museum has received a $23,000 grant from the Consumers Energy Foundation supporting technology upgrades including new laptop computers and distance learning educational equipment. New technology and distance learning equipment will allow the museum to provide various educational opportunities throughout the world.
"The Consumers Energy Foundation is committed to ensuring Michigan communities are growing and have world-class cultural resources. We are pleased this grant will provide an opportunity for the Ella Sharp Museum to broaden its reach, both within our hometown community and throughout the region," said Carolyn Bloodworth, the Consumers Energy Foundation's secretary/treasurer.
The Consumers Energy Foundation grant will support the purchase of 14 new laptop computers, a remote server, and an entire distance learning equipment package including a greenscreen, video camera, microphones, etc. The technology will streamline the working efficiency of the museum and its employees and open up a new revenue stream for the museum.
"These grant funds will make a tremendous impact for the Ella Sharp Museum. The museum staff have been using 12 year old stand alone computers that have made working remote nearly impossible," said Julie Johnson, Executive Director of Ella Sharp Museum. "These new resources will allow the staff more reliable, efficient, and flexible working conditions. In addition, the distance learning equipment will allow us to share our community's history, art, and science to people anywhere in the world. We are thrilled to be receiving this grant."