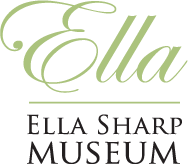 The Ella Sharp Museum is pleased to name Shawn Stenberg as the new Director of Development and Communications.
Shawn will oversee fundraising, community relations, and communications at the non-profit organization which includes the Merriman-Sharp Hillside Farm, Mildred I. Hadwin Center for Art and History, and the Peter F. Hurst Planetarium.
Shawn joins Ella Sharp Museum as a veteran with extensive experience in both corporate and government entities. He brings a wealth of knowledge in collaborating with different constituents and diverse groups. Shawn has over 30 years in leadership, process improvement, and business experience as well as 20 years in philanthropic and government project management experience.
"I am looking forward to working with Shawn and having him join the Ella Sharp Museum team," said Julie Johnson, Executive Director of Ella Sharp Museum.
Shawn will join Ella Sharp Museum in February of 2022.