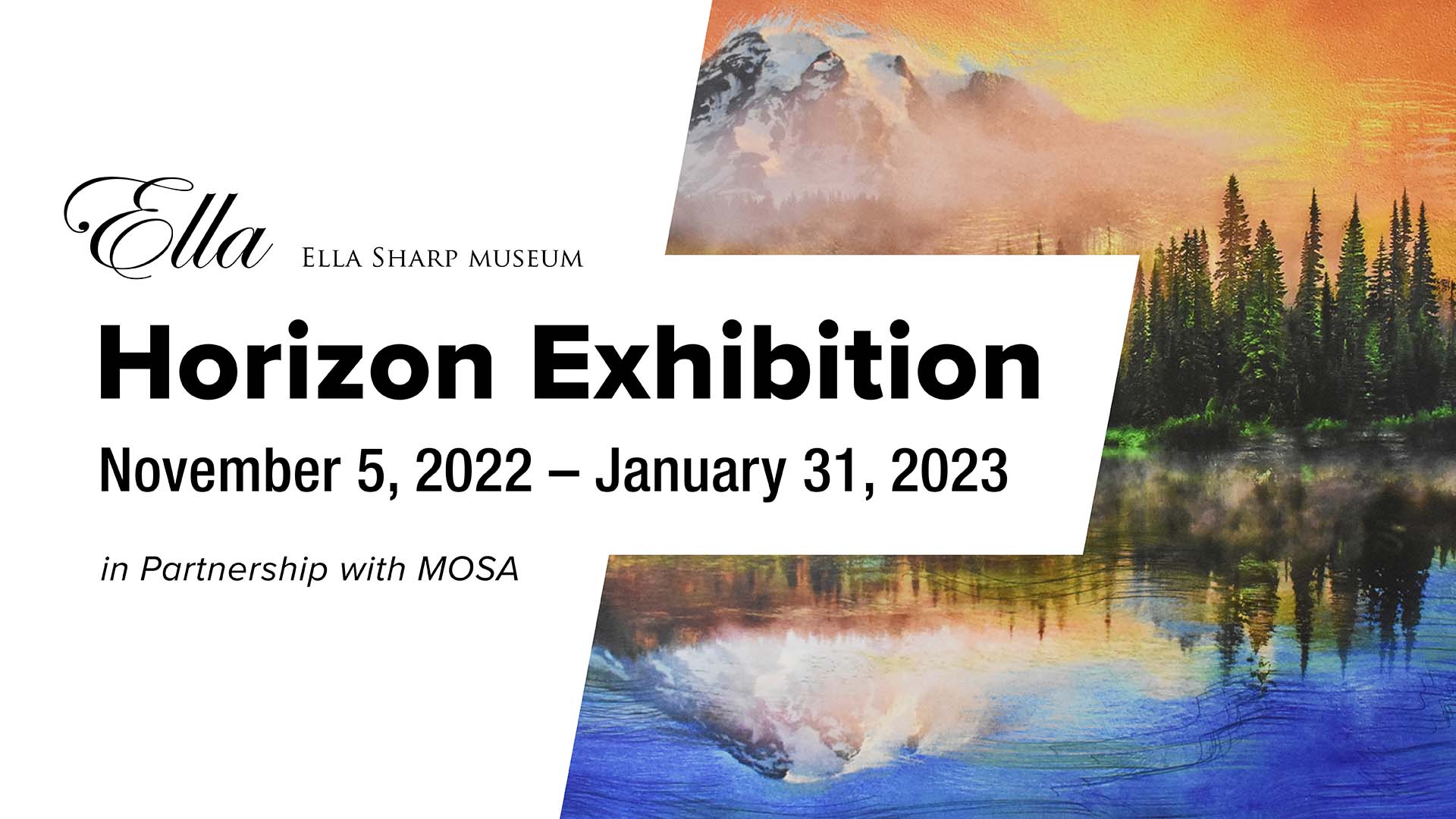 Ella Sharp Museum Brings Museum of Special Art's HORIZON Exhibition to Michigan
Exhibit Promotes Inclusivity with Visual Arts and Disabilities
Honored to show inclusivity through visual art, the Ella Sharp Museum will be the debut venue of the Museum of Special Art (MOSA) HORIZON Exhibition. The new traveling exhibition, on view November 5, 2022 through January 31, 2023, will feature an eclectic mix of 30+ realistic, modern and abstract works of mixed media artwork from 18 talented artists of varying ages, experiences and disabilities throughout the United States, Spain and Canada.
"The HORIZON Exhibition showcases artwork created during the midst of the Covid-19 pandemic; a time when many in the MOSA community felt great separation from friends and families. Leaving behind feelings loneliness and isolation, these artists embraced their passion and have emerged shining a light to the better days yet to come," stated Museum of Special Art's executive director, Leslie James.
"The Ella Sharp Museum is thrilled to be the premier museum for the HORIZON Exhibition. We are dedicated to embracing and sharing art from people of all backgrounds, communities and identities. This experience will leave you inspired as we celebrate the artistic gifts and talents of artists with disabilities. Speaking as a former teacher and mother, I encourage everyone to see the HORIZON Exhibition, commented Julie Johnson, Ella Sharp Museum executive director.
Art in the HORIZON Exhibition comes from a unique viewpoint of artists with disabilities. Many of these artists have developmental, physical disabilities or traumatic brain injuries who face day-to-day functional challenges rise above all odds to create the most beautiful works of art. Because of limited access in the arts due to their disabilities, these pieces are rarely seen by the public.
HORIZON Exhibition artists include David Baker, Elizabeth Castellano, Winston Chien, Earl Debnam, Matthew James, D'Elaine Johnson, Forrest Sargent, Brom Wikstrom and many others.
Public programming at the Ella Sharp Museum for the HORIZON Exhibition includes an Eco-Art workshop with featured MOSA artist Grant Maniér on Saturday, November 12 from 12 pm – 3 pm. Learn more and register for the art genre workshop that uses recycled materials at https://bit.ly/Ella-ecoart.
Exhibit: The HORIZON Exhibition
Exhibit Location: Ella Sharp Museum, 3225 Fourth St, Jackson, MI 49203
On View at Ella Sharp Museum: November 5, 2022 – Jan. 31, 2023
Gallery Hours: Wednesday – Saturday, 10 a.m. – 5 p.m., Sundays 12 – 5 p.m.
Contact: 517-787-2320, info@ellasharp.org for more information, including additional programming and group rates.
About Ella Sharp Museum
The Ella Sharp Museum, a 501(c)(3), was founded in 1965 and offers programs, exhibits, and experiences preserving community history, advancing art appreciation, and connecting children with astronomy. Our 6-acre campus includes the Hadwin Center with exhibit galleries, program spaces, rental facilities, and offices; the Merriman Sharp farmhouse, a one-room schoolhouse, a log cabin, barn and the Hurst Planetarium. Our mission focuses on providing opportunities to connect our community with history, science and the arts. Additional information about Ella Sharp Museum is available at www.ellasharpmuseum.org.
About Museum of Special Art (MOSA)
Located in Seattle, WA, the Museum of Special Art (MOSA) is the first visual arts disability museum in Washington. Through its visual arts inclusion opportunities and disability awareness activism, the 501c3 nonprofit helps to build recognition and an appreciation of artists with disabilities. Support for artists with disabilities includes providing access to visual arts, virtual and in-person education programs and career development assistance. The museum's dynamic programs and exhibits engage K-12 students and adults with disabilities both domestically and internationally. Artwork can be viewed and appreciated from special artists in the state of Washington, throughout North America and beyond as part of the MOSA community. For more information about MOSA, visit www.museumofspecialart.org.