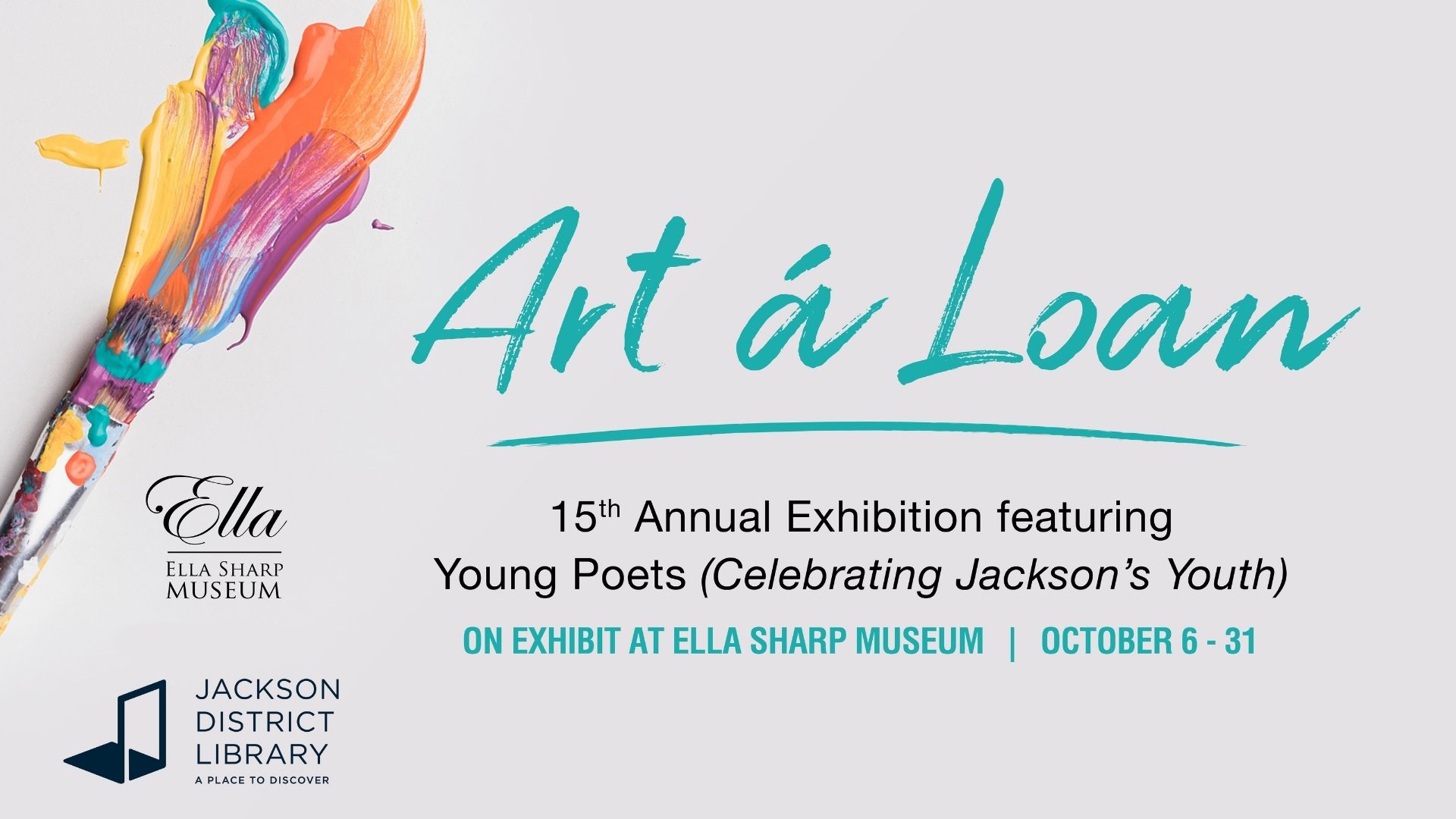 Art à Loan Exhibit Returns to Ella Sharp Museum with New Jackson District Library Partnership
The Ella Sharp Museum's annual Art à Loan program celebrates and shares the talents of K-12 students throughout Jackson County. This year the museum has partnered with the Jackson District Library's "Young Poets" Program. Selected artwork was thematically paired with winners from "Young Poets" and will be featured in a special exhibition at the Ella Sharp Museum, October 6–31, 2021.
"The Jackson District Library is honored and excited to have the opportunity to partner with Ella Sharp Museum in order to highlight the accomplishments of area artists and poets," said Sarah Hashimoto, Community Engagement Manager of the Jackson District Library. "Pairing the artwork with winning poems from Young Poets really brings out the unique characteristics of each work."
Following the exhibition at Ella Sharp Museum, artwork is rented and displayed in public locations around Jackson County for one year. Locations are listed on the museum website next to the artwork and poem. A special thank you to all local businesses and organizations who have rented a piece for 2021-2022.
"Neither program would be possible without the efforts of our local educators and the museum is pleased to partner with the Jackson District Library to play a role in celebrating creativity and community," said Katie Gigliotti, Director of Learning and Engagement at Ella Sharp Museum.
This year's Art à Loan pieces have been individually framed by I've Been Framed.
"We hope that everyone will be able to see the artwork out in the community and will join us in celebrating these talented artists," Hashimoto said.
Plan your visit now at ellasharpmuseum.org/visit and learn about our current and future
exhibitions at ellasharpmuseum.org/exhibits.
Exhibit: Art à Loan: 15th Annual Exhibition featuring Young Poets
Exhibit Location: Ella Sharp Museum, 3225 Fourth St, Jackson, MI 49203
On View at Ella Sharp Museum: October 6-31, 2021
On View in the Community: November 2021 – September 2022
Museum Admission: Adults: $5; Children: $3; Museum Members and Children Under
5: Free. Admission includes access to the Jackson History Gallery, Jackson & the
Roaring 20s exhibit, Andrews Wildlife Gallery, and the Never Enough Time Gallery
Gallery Hours: Wednesday – Saturday, 10 a.m. – 5 p.m., Sundays 12 – 5 p.m.
Contact: 517-787-2320, info@ellasharp.org