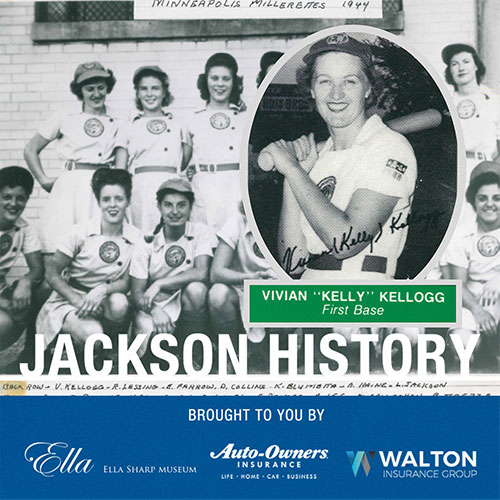 It's Women's History Month! We're celebrating by sharing with you, each week, the stories and history of women from Jackson, MI. This week, we are celebrating Vivian Kellogg.
Vivian "Kelly" Kellogg, born in 1922 and raised in Jackson, grew up playing sandlot baseball. As a teenager, Vivian played in the Girls Athletic Association competitions. In the late 1930's, Kellogg joined an amateur traveling team: The Regent Café (named after and sponsored by the very popular restaurant).
Breaking down barriers in professional sports, Kellogg joined the All-American Girls Professional Baseball League (AAGPBL) in 1944, a year after it was formed by Philip Wrigley (Owner of Wrigley's chewing gum and Wrigley Field in Chicago). She initially played for the Minneapolis Millerettes, which later moved to Fort Wayne, becoming the Fort Wayne Daisies.
Vivian played first base throughout her career with a .978 fielding percentage and leading her teams in hitting in '45 and '46. She finished her 1948 season with a .248 batting average (a solid batting average for the time period).
Vivian was one of many women who inspired "A League of Their Own" and broke gender barriers alongside her teammates. The AAGPBL was still fraught with its own issues. Mrs. Wrigley insisted that all members attend charm school, adhere to strict conduct rules regarding their social lives, and even keep regulated beauty kits. Players had to wear makeup and lipstick while playing. In addition, women who were deemed too "manly" were not signed to teams.
Kellogg played until 1950 when she retired due to a leg injury she had sustained two years prior. She was afterwards very active in Jackson's recreational department and athletic programs. Vivian Kellogg Field in Brooklyn, Michigan is named in her honor.
Some of her materials, including her glove, are permanently displayed at the National Baseball Hall of Fame, where she was inducted in 1988.
Vivian "Kelly" Kellogg passed in 2013, with no regrets. We are honored to share her story during #Womenshistorymonth.
Images and stories come from the permanent collection of Ella Sharp Museum.
This week's Jackson History is brought to you by Auto Owners Insurance and Walton Insurance Agency.