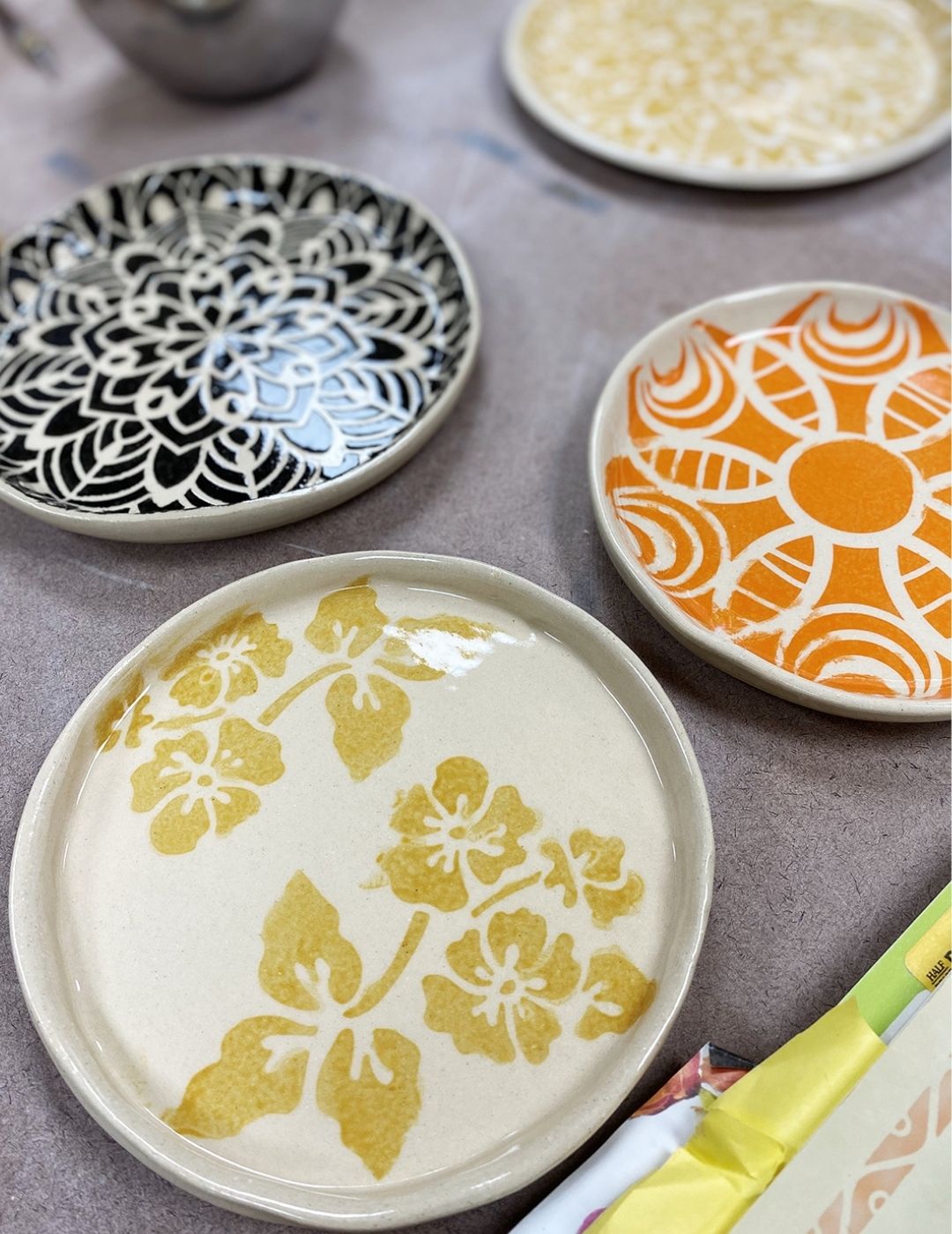 Ceramic Classes
Join us for our adult ceramic classes and cultivate your creativity.
Classes are offered year-round and are open to all levels (beginners to experienced adults).
Each semester, students will learn about pottery tools and how to utilize them. Beginners will also learn the basics of pottery. Those familiar with pottery will enhance their skills. Our seasonal classes include open studio for new and experienced potters. Register online using the form below.
Winter Sessions (Range from 4-8 Week Classes)
4 Week Session: $100/session, Museum Member Price: $87.50
Spring Sessions (8 Week Classes)
Session Price: $250/session,  Museum Member Price: $200/session
Fall Sessions (8 Week Classes)
Session Price: $275/session,  Museum Member Price: $225/session
Summer Sessions (4 Week Classes)
Session Price: $150/session,  Museum Member Price: $100/session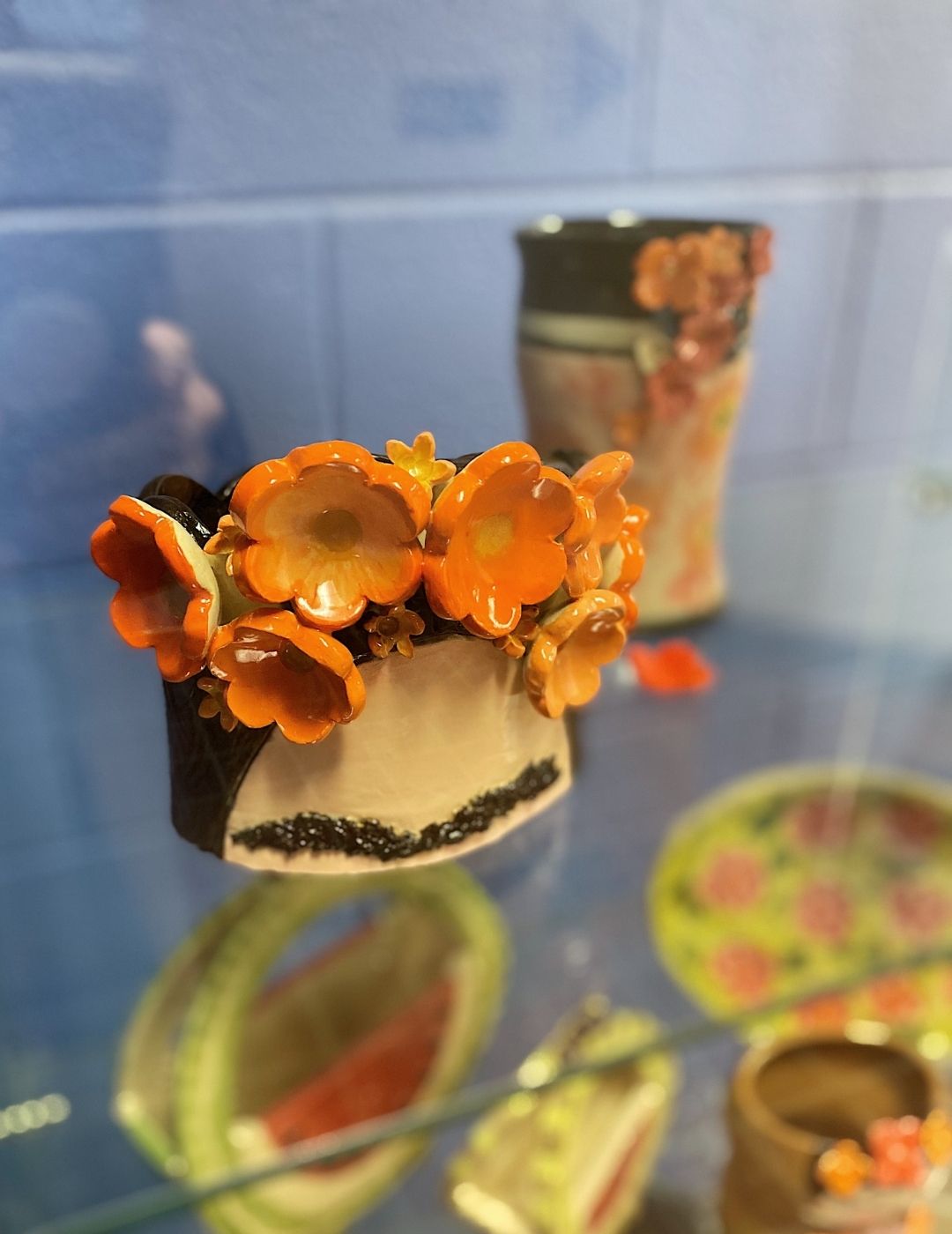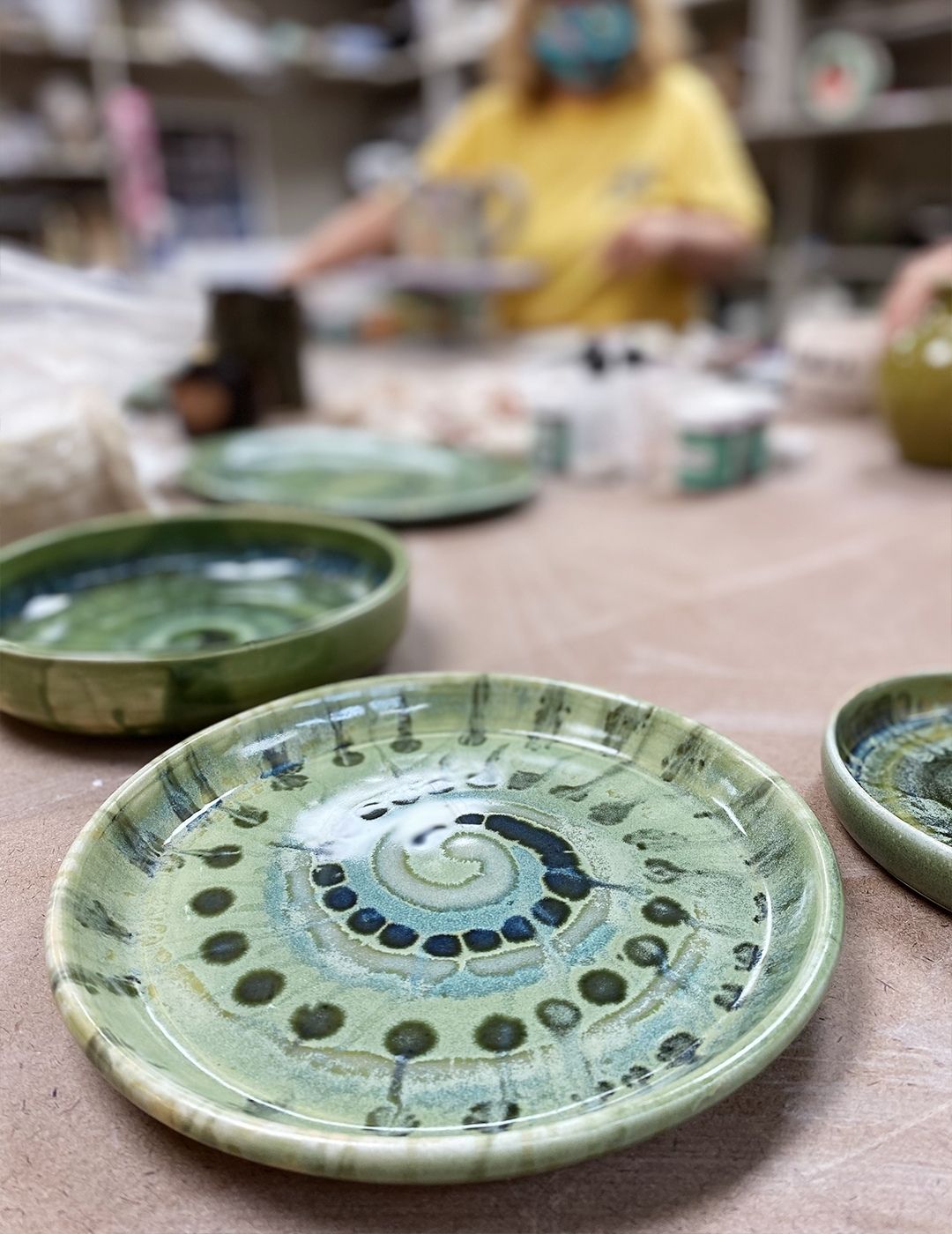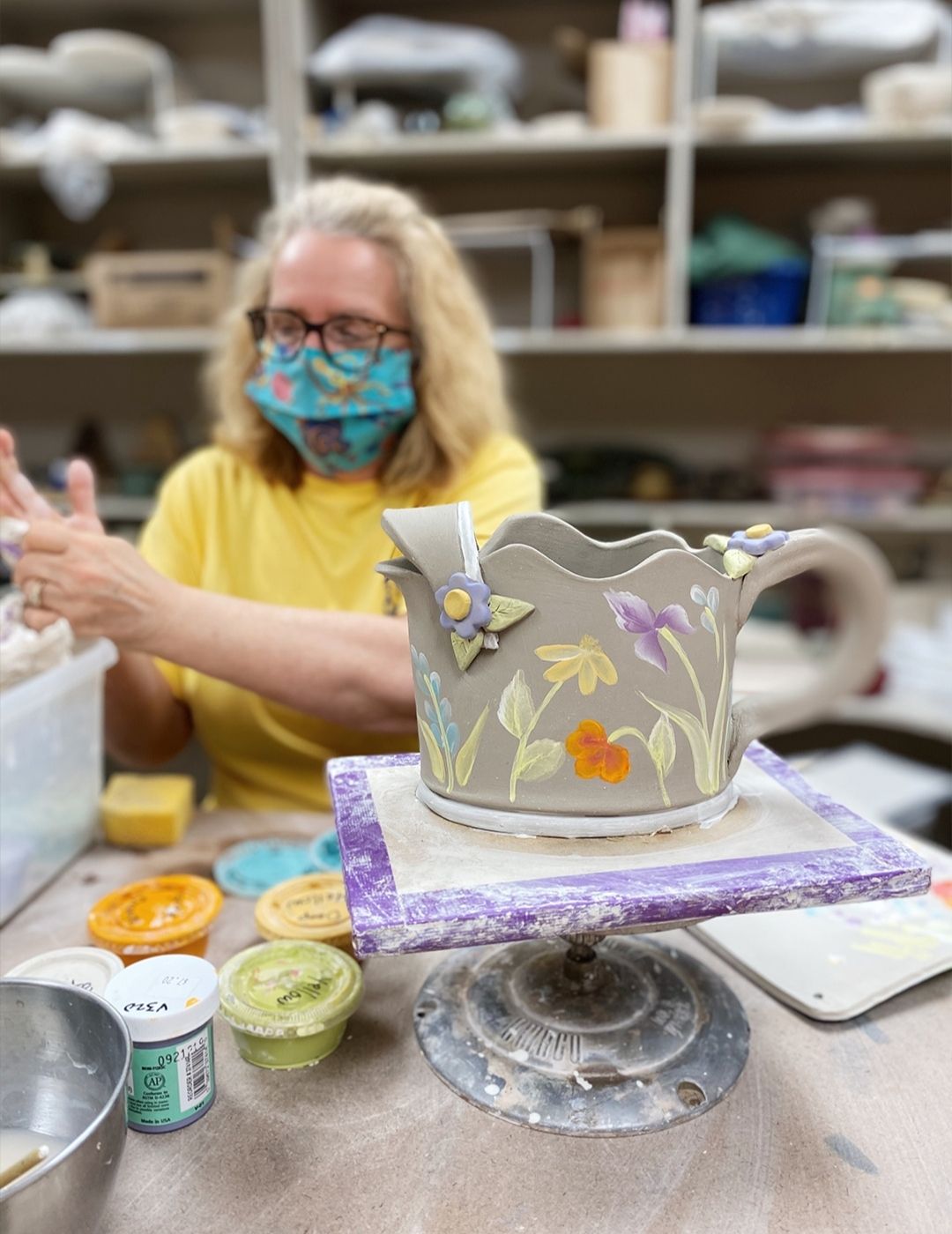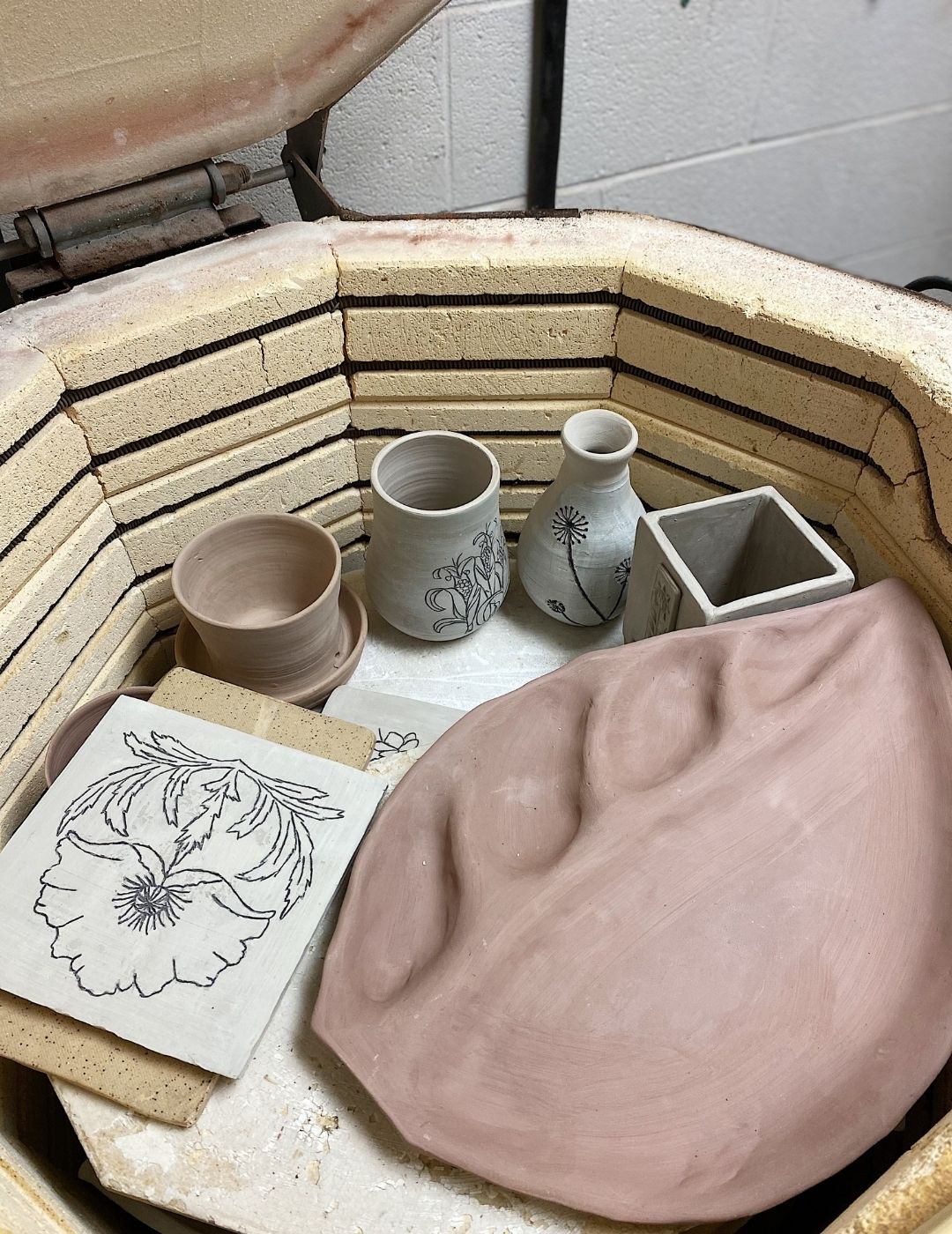 Meet our Instructor: Jesse Kasper
Jesse Kasper became obsessed with the world of ceramics at a young age. Family vacations to the Western U.S. in the early 1990's allowed her to explore ancient Anasazi ruins. A house fire created broken shards of pottery that became intricate puzzles to solve. These experiences helped Jesse to form a deep connection with history and cultivated a love for the functional and hand made. A Montessori background adds to her lifelong love of learning and teaching. Jesse holds a BFA in Ceramics and a BA in Advertising from Michigan State University. She has been a practicing ceramicist and educator for over 10 years. Jesse lives in Jackson, MI with her wife Hannah, son Ocean and crew of furry family members.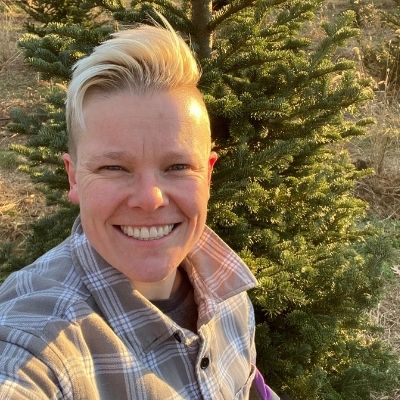 Meet our Instructor: Romelle Frey
Romelle Frey, native of Minnesota, is a potter and pottery instructor based in Jackson, MI. She holds a design degree from the University of Minnesota and was first introduced to clay in 1977 at the Naval Air Station in Miramar, California. From day one she was "hooked".
Since settling in Jackson, Romelle has taught children's clay at Ella Sharp Museum for nine years and is currently the adult clay instructor and studio manager. Her classes range from beginners through advanced and she does occasional workshops with groups coming to the Ella. Romelle is an officer in the Jackson Pottery and Clay Guild and a member of the Jackson Civic Art Association. Her work can be found throughout many galleries across the state: East End Gallery, Kay Gallery, Manitou Beach Boathouse Art Gallery, and the Cracked Pot Studio Tour.
Romelle loves to hand build as well as throw, alter, stamp, carve and combine multiple techniques. Her work includes functional and non-functional ceramics. She uses stoneware and porcelain clay and enjoys several firing processes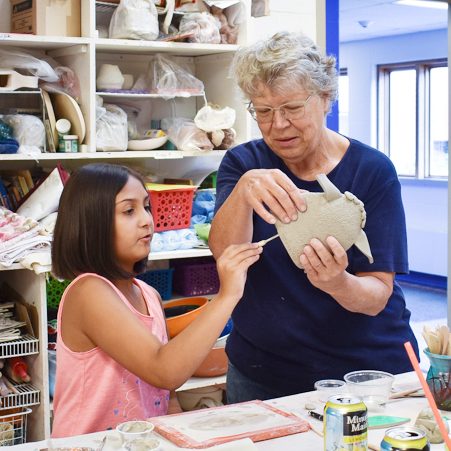 Meet our Instructor: Beth Voulgaris
Beth Voulgaris is a lifelong artist and has been creating pottery for over twelve years. Although she employs a variety of techniques in her pottery, her vibrant decorative style done in the sgraffito design tradition is what makes her work distinctive. Beth's handmaid pieces primarily feature colorful underglazes that she paints and carves into pastoral landscapes, organic floral and bird motifs, and abstract patterns. Her ceramics, which she enjoys making from her home studio in Clarklake, are available for purchase at various local events throughout the year.
An advocate for the arts, Beth has served the local community for over two decades through her involvement in arts education programming. She previously taught elementary after-school art and spent eight years visiting classrooms for the Ella's "Arts Go to School" program. Beth was later instrumental in developing and supporting the "Art à Loan" program, a county-wide outreach project to promote children's art. Most recently, she has taught children's and adult's beginner and intermediate ceramic classes at the Ella, been active in educational workshops, and served as a member of both the Jackson Pottery and Clay Guild and the Jackson Civic Art Association.